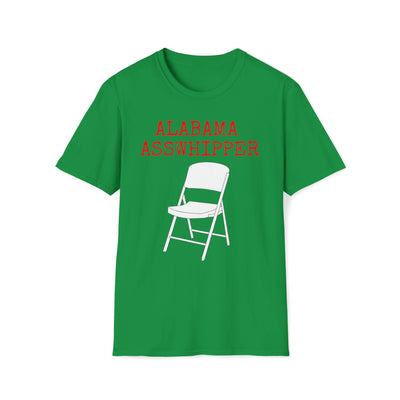 🎉 Introducing the Ultimate Alabama Asswhipper foldind chair Showdown Commemorative T-Shirt! 🎉
Hey there, fearless fighters and folding-chair aficionados! Have you ever heard of a brawl so epic, so legendary, that it involved the surprise entrance of a white folding chair? Well, hold onto your seat (pun intended), because we've captured that unforgettable Alabama showdown moment on the coolest tee you'll ever wear!
🪑 Behold the "Alabama Asswhipper Folding Chair" Tee! 🪑
Picture this: a clash of titans, an atmosphere charged with tension, and then, out of nowhere, a white folding chair swoops in to steal the spotlight! It's the stuff of legends, and now you can relive that hilarious history with every wear. Whether you're a die-hard chair enthusiast, an Alabama superfan, or just someone who appreciates a good laugh, this shirt is your front-row ticket to non-stop amusement.
🤣 Why You Need to Snag Yours Now: 🤣
1. **Talk of the Town:** Be the center of attention wherever you go! Strangers will stop you to ask, "Wait, is that the chair from the epic Alabama brawl?" You'll be a walking conversation starter.
2. **Unmatched Comfort:** Just like that perfectly timed folding chair, our shirts are designed for comfort that hits the mark every time. Soft, breathable fabric means you'll feel as good as you look.
We custom fill your orders within 48 hours. Since we ship direct from the manufacturer it can take up to 7 to 14 days to arrive (international orders may take 21 days). But once you get your stuff you will know it was worth the wait.
This is for returns
Alabama Asswhipper Folding Chair T Shirt