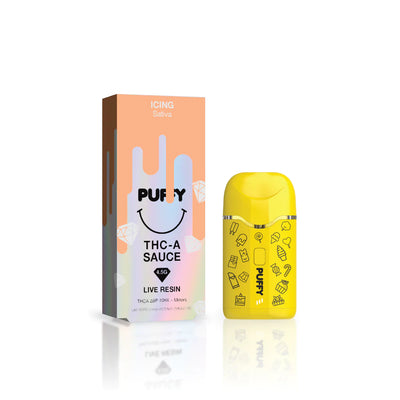 Elevate Your Vaping Experience with Puffy 4.5G: Upgraded Features for Unparalleled Enjoyment. Experience the Power of the Preheat Function, Engaged by a Double Press, Effectively Eliminating any Clogs from Cooled Oil. Unleash the Versatility of Variable Voltage, Triggered by Triple Press, Offering Two Distinct Power Settings: Low for Sublime Flavors and High for Intense Clouds. Prepare for a Vaping Adventure Tailored to Your Desires!
Icing (Sativa): Sip on sunshine with Strawberry Lemonade! Take a break from the ordinary and dive into a blissful blend of sweet strawberries and zingy Lemonade. It's like a vacation in every sip!

Ingredients: THC-A, Delta-9P, HHC-O, Hydroxy-10, Delta-8, Cannabis Derived Terpenes, Botanical Terpenes, CBN, and CBG.
FOR ADULTS ONLY 21 yrs old and over.

 

ID REQUIRED TO FULFILL ORDER
We custom fill your orders within 48 hours. Since we ship direct from the manufacturer it can take up to 7 to 14 days to arrive (international orders may take 21 days). But once you get your stuff you will know it was worth the wait.
This is for returns
Sweet Life 'PUFFY' 4.5G THC-A Live Resin Disposable
HURRY! ONLY 10 LEFT IN STOCK!