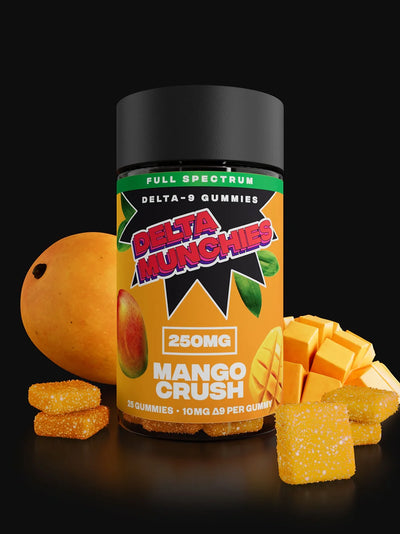 Our full spectrum delta 9 products are made with a true-to-cannabis experience in mind. We've packed every single one of our 15 years of cannabis industry experience into one gummy by carefully curating a hemp-derived, full-spectrum delta 9 gummy that contains 11 major cannabinoids. Each piece is carefully crafted for the cannabis connoisseur, as each gummy creates a unique, potent, and synergistic cannabis experience. Our full spectrum gummies allow each of the cannabinoids to work together as an entourage to create an experience that can only be described as the whole cannabis flower packed into one gummy.
TOTAL DELTA 9 CONTENT PER GUMMY:
10mg
TOTAL DELTA 9 CONTENT PER JAR:
250mg/450mg
GUMMIES PER JAR:
25/40 pieces
PLUS 10 ADDITIONAL CANNABINOIDS:
CBN, CBG, CBD, CBC, CBCa, CBGa, CBDa, THCV, THCva, D8, and THCa.
Must be 21 years or older to purchase. 
 ID REQUIRED TO FULFILL ORDER
We custom fill your orders within 48 hours. Since we ship direct from the manufacturer it can take up to 7 to 14 days to arrive (international orders may take 21 days). But once you get your stuff you will know it was worth the wait.
This is for returns
Mango Crush Delta 9 Gummies
HURRY! ONLY 10 LEFT IN STOCK!