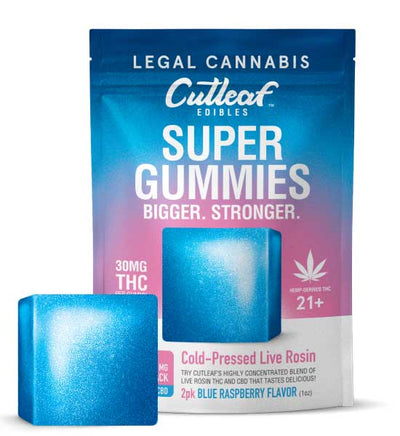 Cutleaf Super Gummies | 2-count bag – 60mg per pack
Cutleaf Exotics super gummies (Cold-Pressed Live Rosin) contain some of the leading holistic ingredients for overall human health as stated by users. There are 6 different flavor options that are uniquely formulated to lift the mind, body, and spirit. All Cutleaf Super Gummies are Vegan, Pesticide Free, Paraben Free, and Never Tested on Animals. Each super gummy contains 30mg Hemp Derived CBD, 30mg Hemp Derived THC & Live Rosin Blend.
Additional Product Info:
They are handcrafted in the USA with USA-grown hemp.
All products contain 30mg of THC per gummy.
FOR ADULTS ONLY 21 yrs old and over. ID REQUIRED TO FULFILL ORDER
Carefully consider your tolerance level for dosage.
Allow 30-60 minutes to take effect. May cause drowsiness. Consult with your physician for the optimal amount.
WARNING: Cutleaf Products can be intoxicating to some people. Do not drive or operate heavy machinery while using this product.
We custom fill your orders within 48 hours. Since we ship direct from the manufacturer it can take up to 7 to 14 days to arrive (international orders may take 21 days). But once you get your stuff you will know it was worth the wait.
This is for returns
Cutleaf---Blue Raspberry 30MG Super Gummies